Oct 31, 2018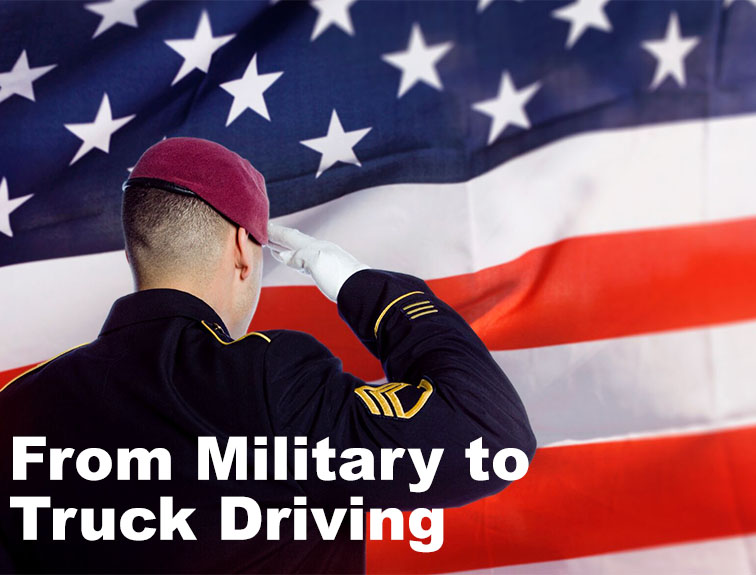 The trucking industry has long been an excellent choice of a career for service members once settling back into civilian life. Trucking companies are very welcoming to military members who need training and a new career after they have completed their service to our country.
The trucking industry will continue to need more and more workers as time moves forward and the consumer demand in the industry grows. Hiring military veterans is a great option for trucking companies because several skills needed for the job are already ingrained for the new hire. Being a military veteran can also provide some valuable bonuses when joining the trucking industry.
Joining the Military Skills Test (AKA Road Test) Program:
The Military Skills Test Program allows for any military personnel to skip the road test as long as they have been in the service for 2 years and used military vehicles during that time. The waiver to participate in this program is now available in all 50 states as well as in the District of Columbia. Many of these veterans who are interested in driving a "big rig" when they get home have worked driving big military tanks and vehicles in the past. Their training will cross well into the trucking industry and into driving large loads of goods to their destinations.
Since the Military Skills Test (AKA Road Test) Program has been implemented the number of military members who have joined the trucking industry since 2014 has continued to increase.
How Do These Military Skills Test Waivers Work?
Soldiers who are eligible for this program have at least two (2) years of safety experience driving heavy duty military machinery or equipment. The eligibility time frame has been extended for one more year nationwide. Veterans with a Skills Performance Evaluation (SPE) who are missing at least one limb will have their SPE will also be treated as an equal to the FMCSA issued SPE.
When soldiers come home, the trucking industry is glad to offer them steady, long-term employment. This is one of the greatest ways we can pay back the men and women who have given so much to our country.
How Do I Know If I Qualify For a Skills Test Waiver?
Those seeking a Skills Test Waiver must have the forms submitted within 12 months of their discharge from their service with the US Military. The Skills Test Waiver exempts the person from the road test part of the CDL but the written tests with the Department of Motor Vehicles still has to be taken.
The following questions will be asked to determine if you are eligible for a Skills Test Waiver. It's in your best interest to answer all of these questions honestly to ensure that your Skills Test Waiver is accepted and that you are a candidate for long-term employment. The following are a small sampling of some of the questions you will be asked:
Have you ever been convicted of being under the influence of alcohol or another controlled substance?
Have you ever had a blood alcohol content of 0.04 or higher while driving a commercial vehicle?
Have you ever been convicted of leaving the scene of an accident?
Have you ever been convicted of using any type of motor vehicle to commit a felony?
Have you ever been convicted of causing a fatality while driving a CMV?
These are just a few of the questions you will be asked when you fill out your Skills Test Waiver. If you pass the Skills Test Waiver you will not have to take the road skills part of the test to get your CDL. You will be one step closer to a secure, lifelong job that you will love and you have a peace of mind knowing that your job is secure and you will have a future way to provide for your family! It's the least the trucking industry can do to thank you for your dedication and service to our great nation!
If you are ready to get started with your new truck driving career, contact Georgia Driving Academy. We are ready to help you get on the road with your new CDL license. GDA provides both Class A and Class B CDL training in Conyers and Columbus, GA.