May 19, 2017
Check out a few of our recent CDL graduates! They came to school, worked hard, and are off starting in their new careers as truck drivers! We helped them find the job and employer that was right for them. Some of our student go OTR, some stay regional or even drive local! With our job placement assistance, most of them had multiple job offers to choose from after graduation! If you'd like to learn more about our Job Placement, give us a call anytime!
---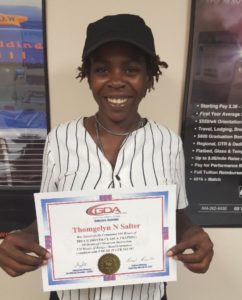 Thomgelyn Salter just graduated from our Conyers campus with her Class A!! She decided to come to GDA to better her future, and had a job lined up with Coca Cola!
"All training was great, they take their time and manage it to your pace. With hard work is all helps!" – Thomgelyn Salter
Kyle Snipes heard from a previous GDA graduate that our school was great, so he came to check it out himself. Turns out, Kyle was a pretty great student as well – he graduated with Honors from our Class A program! He's starting his trucking career with ROEHL and we think he'll go far (literally!) and do really well for himself!
"What was my favorite part about training? The instructors were great!" – Kyle Snipes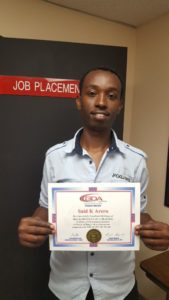 Said Arero has friends who are truck drivers, and thought he would follow suit. He came to GDA for his Class A CDL at the referral of a friend, and ended with great job with Werner!